Formulation Development in Safe Hands
Working Together With Experts for Pharmaceutical Formulation
We are experts for formulation development. Not only in theory but also in practice. We assist you on specific issues in pharmaceutical formulation. We can also support you by conducting particular trials or even by taking care of the entire formulation development. Our lab provides the equipment required for all relevant trials. We can get started promptly as we aren't bound to any GMP regulations in our lab. This allows us to quickly obtain conclusive results for you.
We developed a method that allows us to obtain reliable results even with a very little amount of API. We call this method "Small Scale Development". Using this method, we save up to 90 % of API compared to conventional early-stage procedures and still make valid predictions about tabletability and future producibility. We'd love to explain this method to you in a personal conversation to give you an impression of the small scale pharma industry . Just give us a call!
Small Scale Development – Precise Trials for Pharmaceutical Formulation
The "Small Scale Development" method enables us to perform many trials relevant for the pharmaceutical formulation at a very early stage of drug development — exactly during the phase when the API is still very costly and produced only in limited quantities. Your advantage: The possibility to determine the basics of formulation and production method even prior to clinical trials can reduce the time for market access considerably.
We develop pharmaceutical formulations for:
direct tableting
dry granulation
fluid bed and
high shear granulation
We can apply our "Small Scale Development" to all these procedures. Naturally, we also support you during transitions in manufacturing processes or with other challenges connected to formulation development, for example if you already have a pharmaceutical formulation and wish to optimize it.
Once the formulation is established, we do not leave you high and dry: We also perform scale-ups, define manufacturing instructions including in-process controls, and supervise the transfer to production sites.
Our Procedure in Formulation Development – We Solve Your Individual Challenges
First of all, for a successful formulation development we want to fully understand your situation and the precise challenges. On this basis, we will work out a proposal for solution. This proposal greatly depends on the type of problem and will be tailored individually for you. Below, you can see our basic model for formulation development which is based on three central phases:
1. Characterization and Production Method
As a rule, we start by characterizing the pure API.
Based on these results and your ideas for production setting and excipients we will create first suggestions for the pharmaceutical formulation.
Depending on the desired quantity of active ingredient and the API's characteristics we will be able to already narrow down the manufacturing methods. This is important as the manufacturing method influences the choice of excipients and excipient qualities. In case you already determined or favor a manufacturing method we can go according to your choice, of course. We support you with the development of pharmaceutical formulations for direct tableting, dry, or wet granulation.
2. Formulation Development
The actual formulation development (2nd step in diagram) is an iterative and agile process. Once the first formulations are tested, we will analyze the results and adjust the formulation accordingly. We prefer keeping in close contact with you during these iterative steps. However, you can also give us free rein and will receive a reliable formulation in the end.
At this point, our focus lies on tableting and dissolution properties. Naturally, we also keep an eye on flowability. However, this can only be tested ultimately with larger product quantities in phase 3 and on a rotary tablet press.
As a general rule, we always develop formulations with an eye towards future production. Already at this point, we pay attention to the basics for a potential scale-up and feasible production processes. At this stage, the focus is on the formulation development itself and we prefer not to apply any pre-compaction forces. The reason: Pre-compaction force and slight reductions of tableting speed should be reserved as resource of vernier adjustment for the production process when the formulation is established. We consider this to guarantee a pharmaceutical formulation that suits your project optimally.
3. Controls
The next step of a comprehensive formulation development is to test the most promising candidates from step 2 on a rotary tablet press in order to determine the flowability by reference to the standard deviation of weight. If necessary, this step can also be postponed to a time when the supply of API is not as short anymore.
We can perform these trials either on a small rotary press in our lab, or on your actual production press or within the manufacturer's facilities. Thus, we offer you the possibility to use our tools and premises that guide the way to a successful individual, pharmaceutical formulation.
Our Technical Center With Professional Equipment for Your Formulation Development
Our laboratory provides a
wide range of equipment
. In addition to analytical devices, we usually use the following machines for formulation development: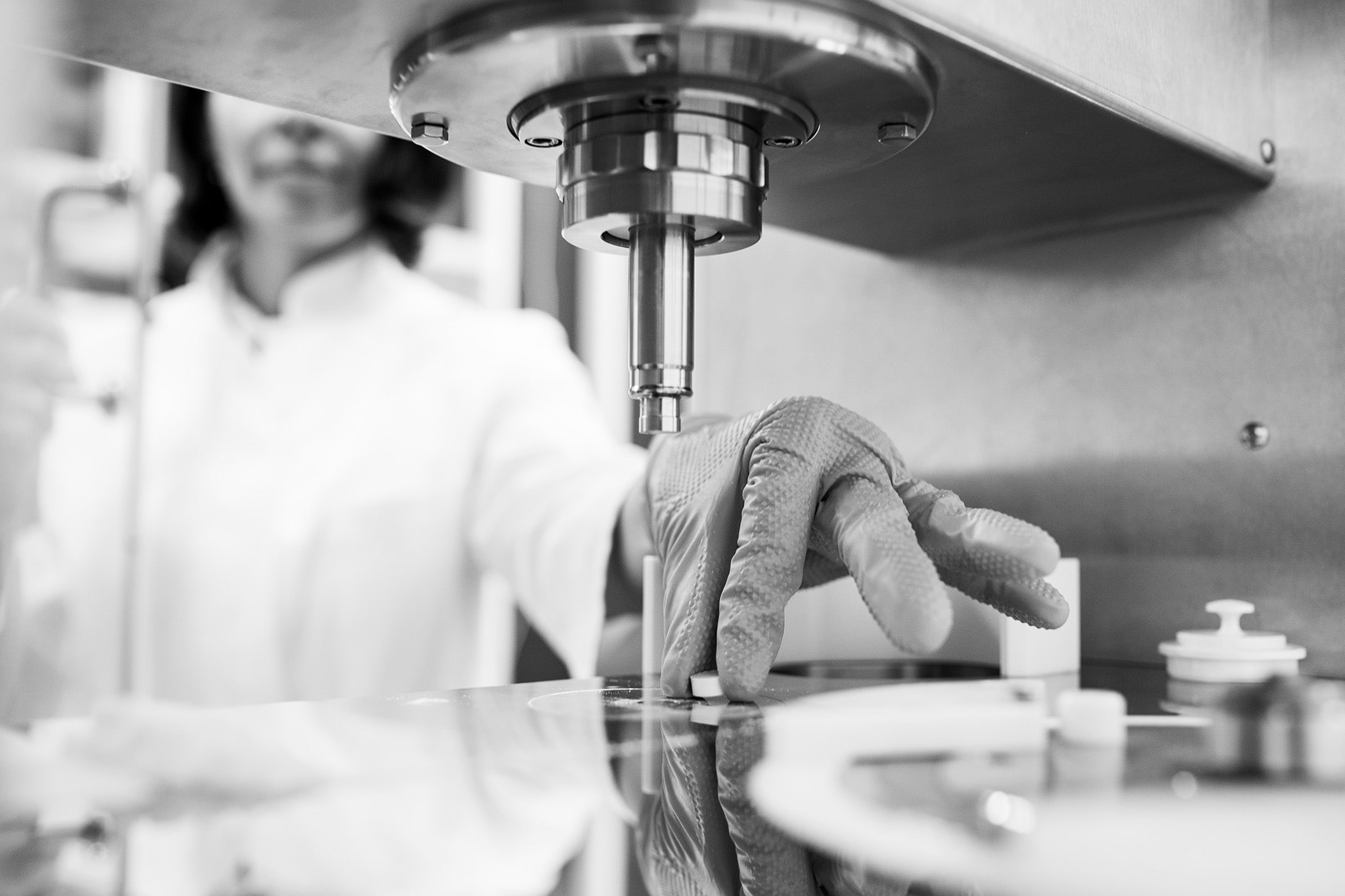 Styl'One Evo by Medelpharm
The Styl'One Evo is a single-punch tableting press for research and development. It can simulate the profiles of various rotary tablet presses. This allows us to make reliable predictions on tabletability in the formulation development — and this while using only very little material. We are capable to characterize the tabletability for a substance with as little as 5 g of product.
On top of that, the Styl'One Evo allows us to simulate the manufacturing of dry granules. For this purpose, we firstly produce tablets providing a certain strength. Following this, we grind the tablets using a hand mill by Gerteis. The granules' properties are comparable to granules produced on a Gerteis PACTOR. Read our blog article with detailed descriptions of the trial as well. Using this method, we can produce granules and evaluate tabletability with as little as 25 g of formulation.
Mini-PACTOR® by Gerteis

We also have the option to develop dry granules directly on a roller compactor. However, for this process we require 500 g of material per formulation. That is why we prefer the initial development with the Styl'One Evo. Having developed the pharmaceutical formulation, we switch to the Mini-PACTOR® and perform a scale-up in order to test the formulation on a rotary tablet press, too.


However, for some problems it does make sense to conduct the trials on the Mini-PACTOR® directly. We will gladly discuss the most reasonable approach with you for formulation development and show you how the small scale pharma industry works.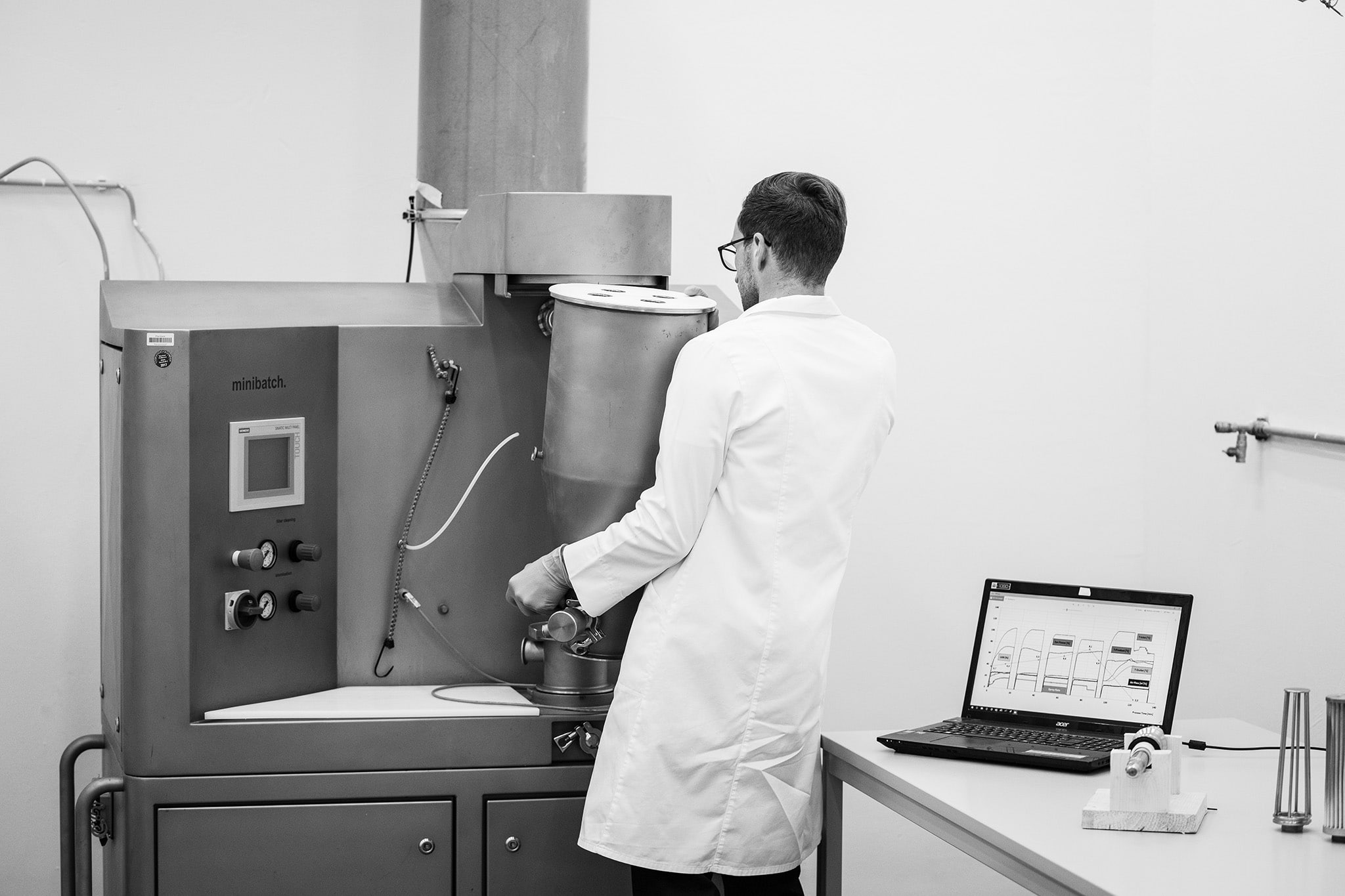 minibatch by Heinen Drying

For fluid bed granulation we use the "minibatch". It allows us to produce batch sizes from 200 g to 1 kg.
BMG Minigranulator by Bohle
For small batches of high shear granulation we use the "Minigranulator". While working at the Bayer AG, our founder, Rob Lammens, was in charge of developing this small high shear granulator in the late 1990s. The device was licensed by the Bohle company. Using the Minigranulator, we can produce batch sizes from 20 g to 1 kg.
Here you can find a full list of our equipment.
If you need support with a highly potent API we can take the formulation development off your shoulders and conduct it in our own OEB 5 lab . Just contact us!