The Optimal Pharma Instrumentation for Full-Featured Pharma Equipment
Upgrade Your Pharma Equipment and Instrumentation With Solids
It is our aspiration to comprehend and investigate the relationships between pharmaceutics and technology more deeply and to find the most efficient solutions for full-featured pharma equipment. For this purpose, we cooperate with universities, we conduct our own contract research, and we supervise bachelor, master, and doctoral theses in the topics of pharmaceutical technology such as tablet press instrumentation.
Improved Pharma Instrumentation for Higher Product Quality
By means of instrumentation (e.g. tablet press instrumentation) and measurement technology within pharma equipment, we observe single aspects within the manufacturing process of solid dosage forms. The choice of aspects depends on the actual question, and the findings usually allow us to improve regulating and monitoring of the process and of pharma equipment itself. This ultimately leads to an increase of product quality – for your trials, studies, and productions for any tablet sizes and for constant tablet measurement.
Your Trials With Experts for Pharma Equipment Instrumentation
We closely cooperate with mechanical engineers within the pharmaceutical field to deepen our expertise in pharma equipment. Here, we concentrate on optimizing individual machines, facilities for continuous manufacturing, and research into innovative measurement methods. Finally, the process needs to be stabilized to produce tablets with constant tablet measurements.
Depending on the question, machines can be equipped with additional force transducers and displacement measurement systems. Acquisition and evaluation of measurement data and its implementation to machine control can play a decisive role for content uniformity.
In addition, we developed an external data acquisition software for tableting presses that enables us to verify the internal machine software's measuring procedures and measurement data and to improve it accordingly. This external software can be used universally for all tableting presses.
We Handle Your Data With Respect – Just Like Your Projects Due to their innovative nature, many cooperative research projects are subject to non-disclosure. Naturally, we respect this, and we cover these projects only with the client's explicit consent. Check out our blog for further information on tablet press instrumentation and news from our team.
Have you come up with an idea? Do you need support for its execution or evidence of relevance? Or are you simply looking for a partner to discuss your ideas? Give us a call. We help you to find the best instrumentation for your pharma equipment (e.g. tablet press instrumentation) for your trials.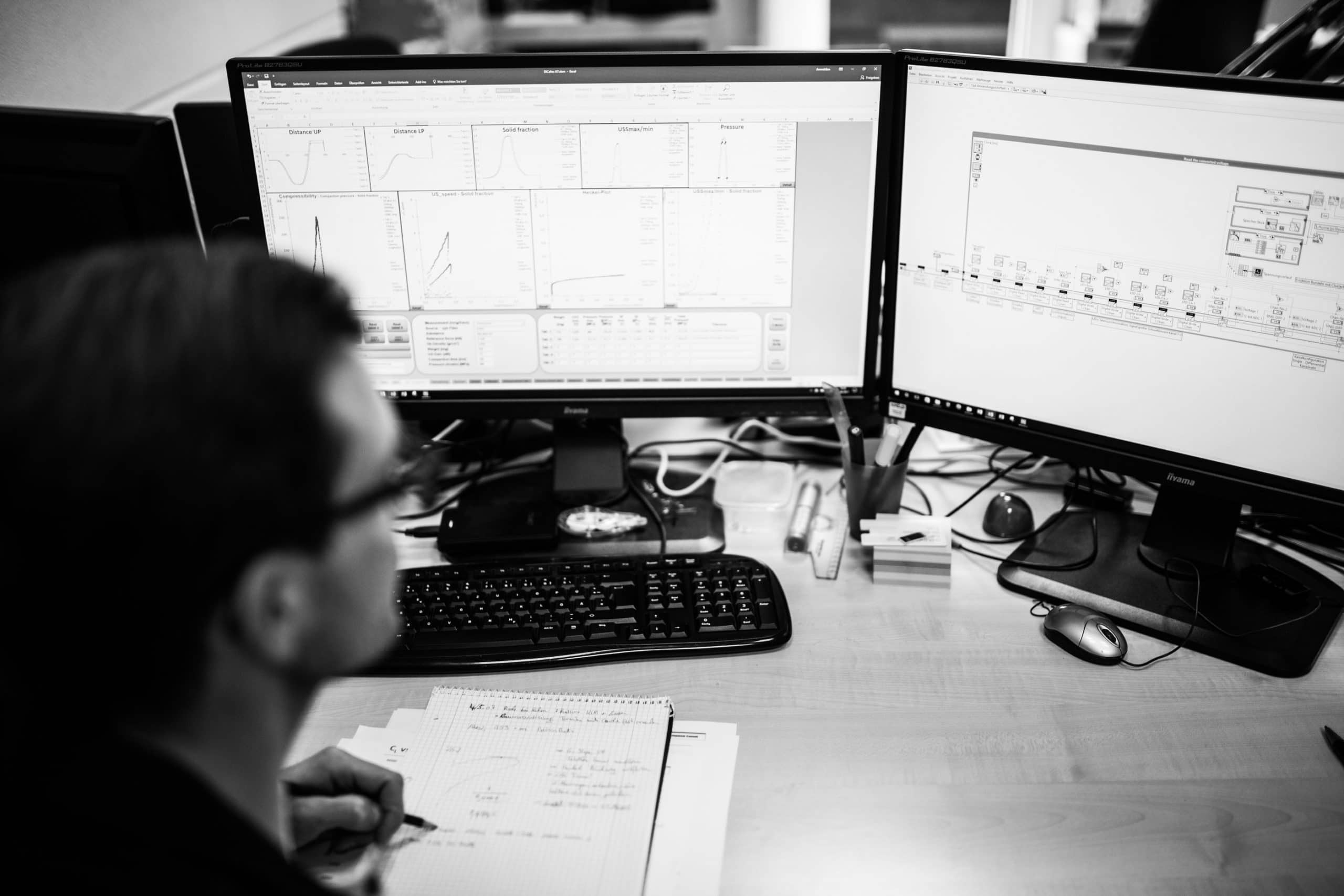 Tablet Measurement With KIM – Kilian Inline Measurement
On behalf of Romaco Kilian, we developed a measurement method to examine a powder with ultrasound while it is being pressed to a tablet. This way, parameters relevant to tableting become gaugeable. This method is called Kilian Inline Measurement (KIM). Once the patent for ultrasonic measurement was granted to Romaco Kilian, we cooperated to develop the details for adapting the application to tableting presses.
At first, we equipped a Styl'One Evo with the new instruments and initially had to break down some instrumentational barriers for this tablet press instrumentation.
The US sensor is mounted directly into the tooling.
The system measures the speed of ultrasonic longitudinal and transversal waves within the powder during compression.
In combination with the exact powder bed height, Young's modulus and the Poisson's ratio can be calculated.
Comprehensive tests and evaluations showed that this new tablet measurement tool comes up with several pharmaceutically relevant parameters such as compatibility of powders. Do you want to learn more about KIM? Please visit our blog or give us a call. The system is set-up in our lab, and you can assign us your trials or visit us for a demonstration.
Another Example for Instrumented Pharma Equipment Projects: RollerPat (ZIM grant)
In cooperation with the university of Bonn and the company ColVisTec, we are currently developing an in-line measurement method to determine ribbon density on roller compactors. The ribbons are to be scanned using ColVisTec glass fibers and the density is to be deduced from the resulting color spectrum.
Initial trials to verify the measurement method were performed offline with tablets and ribbons. Since the results look promising, we have now entered the constructing phase of the mounting for the measuring equipment. Once the device can be mounted, an extensive experimental program will be performed. The project is funded by ZIM, the central innovation program for small and medium-sized enterprises. For more details and examples of instrumented pharma equipment visit our blog.