Mastering Scale-up for Tablet Compression in a Few Steps
With Solids the Scale-up of Your Pharmaceutical Projects Will Succeed
In the process of tablet compression, the scale-up can be challenging – but not with Solids. We have the experience and expertise for a successful scale-up of pharma products and we know exactly what to consider regarding the compression of tablets. Whether dry granulation, fluid bed granulation or high shear granulation – we have the know-how for an optimal scale-up of pharmaceutical products and advise you in tablet compression. Just contact us – we accompany your scale-up.
Experts for a Successful Scale-up – Less Trials in Tablet Compression
First, the procedure for scale-up depends on the technology employed. For example, with dry granulation the scale-up can be conducted very logically as we know all the relevant parameters. The key influencing factors force, gap and roll speed can be calculated for scale-up and the scale-up process does not involve many trials for a successful compression of tablets.
Whereas with high shear granulation the influencing factors are known, too, but cannot be forecast for the scale-up as easily. In general, the process requires more trials to be conducted. However, our experience comes into effect here and allows us to keep the number of trials and the materials input to a minimum. In terms of complexity, fluid bed granulation is in-between dry granulation and high shear granulation.
The right Setup of Scale-up: The Basis for a Successful Tablet Compression
Following a successful small scale development, we are happy to perform the scale-up, too, and will take care of a smooth transition to your production department where the final compression of tablets will take place. Here is a possible outline for the development of dry granules:
We develop the dry granules on the Styl'One Evo with minimal materials input. At first, we produce so-called granulation tablets and grind them with a hand mill. This hand mill produces the same granule properties as a Gerteis Pactor During subsequent tableting trials we can already simulate the target tableting press. You can find further information under the category Formulation Development or on our blog.
For the scale-up, we now transfer the granulation tablets to the roller compactor. With our Gerteis MINI-PACTOR® we produce small amounts of granules using various settings. Usually, we require 500 g to 1 kg of product for this stage.
We compare the different specimen visually and haptically by piling them up manually on a work surface. In doing so, we get an impression of the granules' flowability and strength. On this basis we select the best candidates.
For the selected candidates we then produce 2 – 5 kg of granules (depending on the designated rotary tableting press) to verify their tabletability on a rotary tableting press and to test their flowability.
The last step is the transfer to the actual rotary tableting press. We can calculate the roller compactor's scaling, e. g. from MINI-PACTOR® to MACRO-PACTOR®, and perform the vernier adjustment as part of validation batches.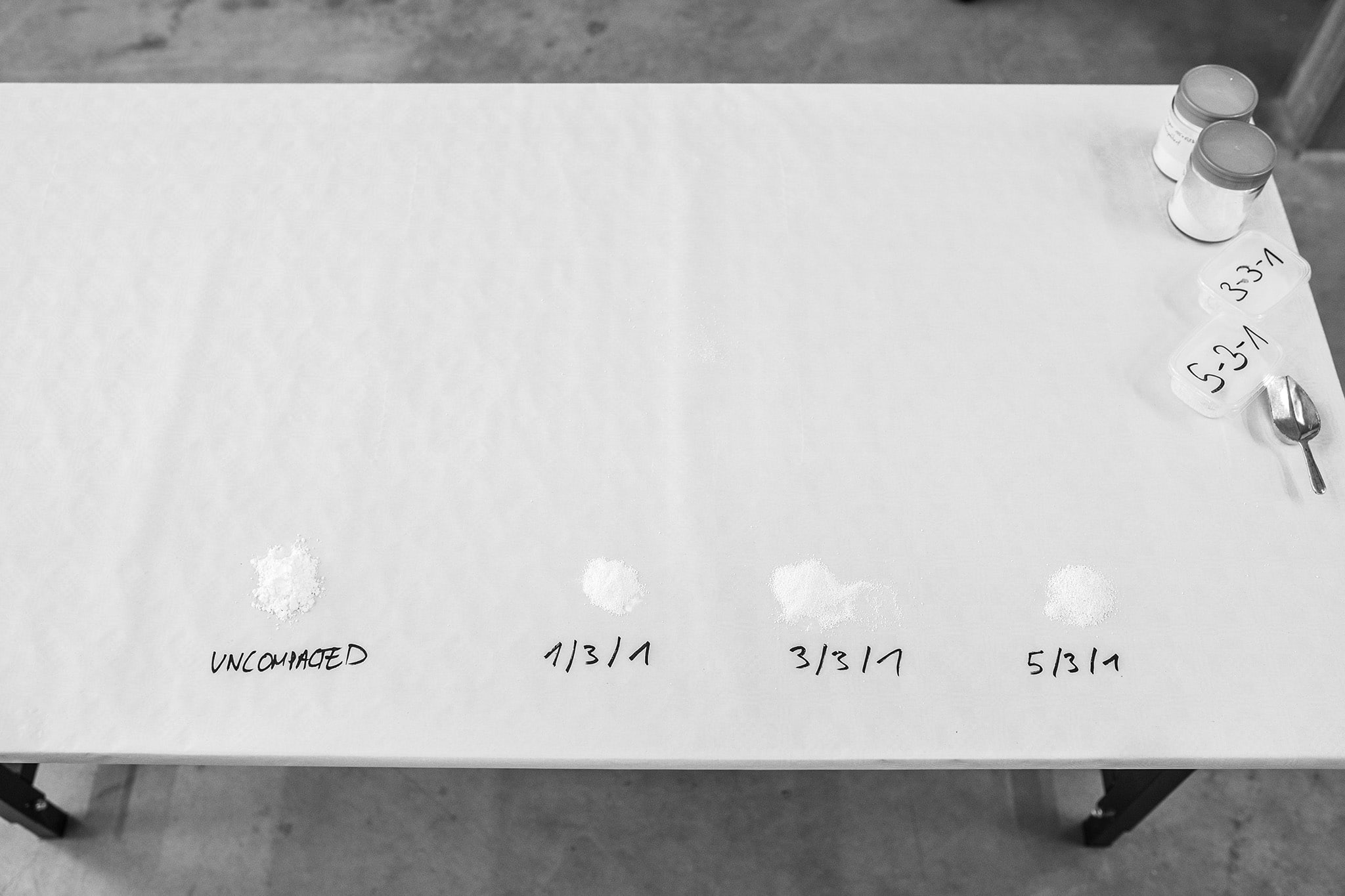 Naturally, we also do scale-ups for wet granulation, and we offer you scale-up support for formulations that were developed by others.
Transition to the Production: We Pave the Way for Tablet Compression
Once the scale-up parameters are determined, we offer the option that we define the entire manufacturing process including all necessary quality parameters. It goes without saying that we coordinate this closely with your production facility for a smooth compression of tablets. As early as we start developing a formulation, we keep an eye on a future migration to a scalable production process. As a result, the transfer to production should work out smoothly. At least, it is our claim to develop formulations fit for production.
For the final scale-up trials or for the handover to tablet compression we prefer to come on-site. All necessary pretrials can be performed in our facilities.
We also offer on-site support in the context of product transfers to another machine or another production site. For each case, we consider individually if a set of pretrials is advisable to spare your production capacities. This makes sense especially if we cannot be sure in advance whether the transfer to another machine is theoretically feasible. We will love to explain you more in a free initial consultation.