We share our knowledge und experience with you
Our seminars: More hands-on, customized to your learning objectives
We organize trainings and seminars about selected topics within the field of solid dosage forms. These seminars stand out due to their comparatively large practical portion. With the hands-on part we give the training participants the opportunity to make use of the theory learned and to deepen their understanding. Small groups of up to five persons perform trials with the respective machines. While we take a back seat, every participant can get some actual hands-on experience and perform realistic trials themselves. We are convinced that this way the learning effect is much greater than with mere machine and trial demonstrations.
Impressions from our seminars:
Comparison of Rotary Tablet Presses (2019)
I especially liked the really helpful output to use directly in practice and the professional and constructive atmosphere.
I enjoyed the hands-on part where we could see different presses from different manufacturers while they were actually running.
I appreciated the very professional and helpful feedback from manufacturers and speakers.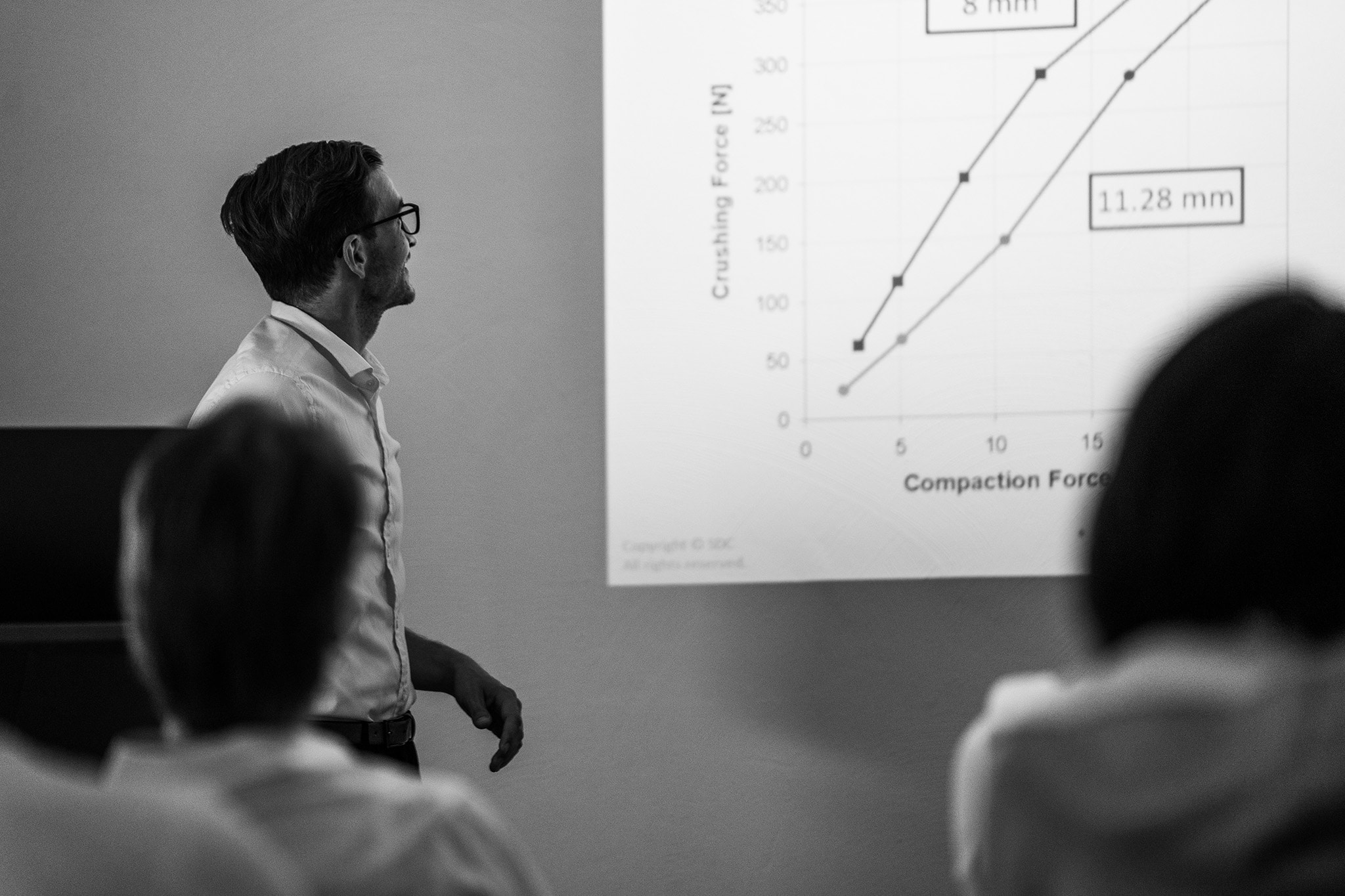 Small Scale Development of Dry Granulates (2018)
Hands-on sessions are very helpful to understand the theory of dry granulation.
Thank you very much for the very well organized and structured training. The combination of practical part and theory helped me to understand the concepts much better — please stick to this set-up.
In addition, we offer in-house trainings for you and your team, always customizing them to your specific needs. Naturally, we can cover your specific questions regarding current projects or discuss your trials.
Customer-specific seminar on the basics of roller compaction (2019)
The Solids Development instructors are very flexible. Especially, during practical sessions we could address issues from our daily routine, discuss them together and even find potential solutions.
If you are interested in a training, please let us know about your ideas. We offer compact or extended seminars on tableting, formulation development, and dry or wet granulation.