Formulation Development
in good hands
Your experts for pharmaceutical and non-pharmaceutical formulation
Your experts for pharmaceutical and non-pharmaceutical formulation
Work alongside experts in pharmaceutical formulations and processes for your individual product development. We offer not just theoretical expertise but also practical experience in areas such as Pharma, Mechanical Engineering, Food, Non-Food, Chemistry, Dietary Supplements, Cosmetics, or Animal Health.
We perform experiments for you, whether they are exploratory or the complete development of your formulation. In our technical center, we can carry out all relevant tests without long lead times since it is deliberately operated as non-GMP. In this way, we quickly achieve meaningful results for you.
Please contact us with specific questions!
Small Scale Development – Precise Experiments "Making the Most Out of Little"
Small Scale Development – Precise Experiments "Making the Most Out of Little"
Minimal material use, maximum impact / maximum effect / maximum insights
Thanks to our innovative "Small Scale Development" method, we can conduct numerous relevant tests for formulation and process with minimal starting material in the early stages of drug and product development – from little, we gain a lot of information.
This is especially valuable when the active ingredient is produced in small quantities and is very costly.
Active Ingredient Savings of up to 90%
Compared to conventional methods in the early development phase, you save up to 90% of the active ingredient while still obtaining comprehensive information about tabletability and processability.
Time Savings up to Market Access
A significant advantage for you is that you can determine the basics for the formulation components and manufacturing method even before clinical trials. This considerably shortens the time to market access.
We develop formulations for various processes, through:
Direct tableting
Dry Granulation
Fluid Bed Granulation
High Shear Mixing Granulation
We are Process Experts: "Small Scale" Approach
For all methods, we utilize our proven "Small Scale" approach. Furthermore, we assist you in transitioning the manufacturing process and other challenges in formulation development.
Once the formulation is set, we won't leave you hanging. We also offer optimization and scale-up services, define manufacturing guidelines including in-process controls, and accompany the handover into production.
Our Approach to Formulation Development – We Are Your Problem Solvers for Your Individual Challenges!
To ensure successful formulation development, it's crucial for us to first understand your specific situation and challenges.
Based on this, we develop a tailored solution proposal, depending on your objectives. Our fundamental model of formulation development comprises three central phases: experiment planning, experiment execution, and result evaluation.

Characterization and Choice of Manufacturing Method
Typically, we begin with the characterization of the pure active ingredient. Based on the results and in coordination with your production and product requirements, we develop initial formulation suggestions.
Depending on the properties of the active ingredient and its desired dosage, we can narrow down manufacturing methods or assess their feasibility. If you already have a specific manufacturing method in mind, we will, of course, take it into account.
Formulation Development
The actual formulation development is iterative. After the initial formulations have been tested, we analyze the results and adjust the formulation according to the target specification. We value close collaboration with you during this iterative process. Of course, you can also grant us full autonomy. In both cases, you will receive a functioning pharmaceutical formulation.
Flowability and Controls
For extensive formulation development, we test the best candidates from 2 on the rotary press to determine flowability and filling behavior based on the standard deviation of weights.
We can conduct these tests on a small rotary press with us, on the target press in production, or even in the experimental labs of the manufacturers.
Thus, we offer you the opportunity to use instruments and facilities that can ensure the success of your individual formulation.
Our Technical Center with Professional Equipment for Your Formulation Development
In our technical center, we have extensive equipment. In addition to analytical devices, we use the following machines for formulation development:
In our technical center, we have extensive equipment. In addition to analytical devices, we use the following machines for formulation development:
Styl'One Evo by Medelpharm
The Styl'One Evo is a single-punch tablet press designed for research and development. With it, we can simulate various rotary profiles at production speeds. This allows us to obtain reliable results regarding tableting in formulation development with minimal material usage. Characterizing a substance can be done using as little as 5 g of the product. The Styl'One Evo also allows us to simulate the production of dry granulates. For this, we produce tablets of a certain hardness, which we then grind into granulate using a hand mill from Gerteis. The granulate properties are comparable to granulate made on a Gerteis PACTOR®. For a more detailed description of the procedure, please read our blog article. Using this method, we can produce granulates from as little as 25 g of formulation and assess their tableting properties.
For more details, please read our blog article with comprehensive descriptions of the procedure. Using this method, we can produce granules with just 25 g of the formulation and assess its tabletability.
MINI-PACTOR® by Gerteis
We can also develop dry granulates directly on the roller compactor. However, a minimum of 500 g is required per formulation. Therefore, we initially prefer development on the Styl'One Evo. After finalizing the formulation there, we switch to the Mini-PACTOR® and perform a scale-up to also test the formulation on the rotary press.
In certain cases, it might make sense to conduct tests directly on the Mini-PACTOR®. We'd be happy to discuss the best approach for your formulation development with you.
minibatch by Heinen Drying
For the development of fluid bed granulates, we use the "minibatch". With it, we can produce amounts between 200 g and 1 kg. Our custom data acquisition software enables us to control the fluid bed process and scale-up the process to larger systems.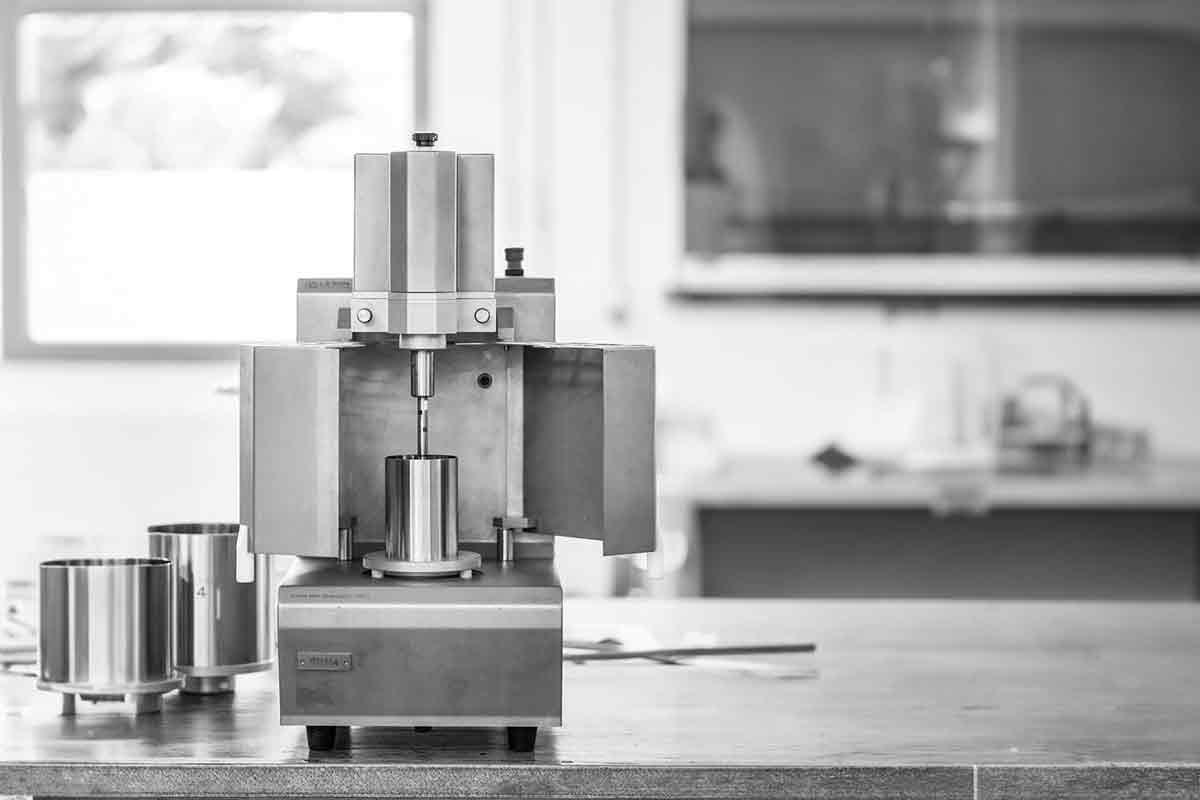 BMG Minigranulator by Bohle
For rapid mixer granulation of smaller quantities, we use the "Minigranulator". Our company founder, Dr. Rob Lammens, played a leading role in the development of this small rapid mixer granulator at Bayer. The device was later licensed by Bohle. With the Minigranulator, we can produce quantities between 20 g and 1 kg.
A complete list of our equipment can be found here.
If you possess an OEB-5 active ingredient, we would be pleased to conduct the formulation development in our OEB-5 technical center for you. Please feel free to reach out to us!
Testing Substances in the OEB-5 Laboratory
Do you have specific plans? Do you need tailored solutions? Are you working with substances of an OEB level? Unable to perform the tests yourself?
The construction of our own OEB-5 laboratory is in full swing. With this expansion, we will soon be offering services for substances with an OEB level of 5/HPAPI.
With our OEB-5 laboratory, you will have nearly unrestricted choice in your substances, allowing you to use those with an OEB level of 5 in our facility. We recognize the importance of safety and efficiency when handling substances with a high hazard potential. Thus, all necessary precautions are taken to ensure safe and controlled handling.
If you already have specific plans for experiments with substances of different OEB classifications, do not hesitate to contact us. We support your projects, regardless of the assigned OEB classification, and will accompany you throughout the entire development process.
Substance testing in the OEB-5 laboratory represents another step in offering you comprehensive services. We look forward to soon being able to provide you with these new opportunities. Reach out to learn more about our services.
Mastering the scale-up for tablet production with few trials
With Solids Development, you achieve the scale-up of your pharmaceutical projects.
Our extensive experience and expertise enable a successful scale-up for pharmaceutical products. We know precisely what is essential in tablet production, be it direct tableting, dry, high shear mixing, or fluid bed granulation. Rely on our know-how to achieve the optimal scale-up for your pharmaceutical projects. Contact us today, and we will guide you on your journey to successful scale-up.
Expert support for a successful scale-up – Less tableting trials
The scale-up process depends on the chosen technology. In dry granulation, for instance, we can carry out a stringent scale-up since all relevant parameters are fully known. We know and understand the interplay of the main influencing variables: force, gap, and speed of the rolls, so we can manage scale up with few trials only. Alternatively, the settings can also be estimated. Finally the trials will be the final verification. Scale-up factors of 750 and more are possible in one step.
The conditions for high shear mixingare different. The influencing factors are known, but the effects of the scale-up of pharmaceutical products cannot be predicted with certainty. Therefore, multiple trials are usually required. The scale-up typically goes through several stages with smaller scale-up factors. Thanks to our experience, we can minimize the number of trials and reduce material usage to a minimum. We also have extensive experience in fluid bed granulation, which is intermediate in complexity between dry and high shear mixing. The foundation of this process is the thermodynamics of water and air, which allows the entire process to be balanced.
Setting up the scale-up correctly: The basis for successful tablet production
After successful development on a small scale, we also conduct the scale-up of your pharmaceutical projects and transfer to your production. For the development of a tablet from dry granulates, it might look like this:
Setting up the scale-up correctly: The basis for successful tablet production
After successful development on a small scale, we also conduct the scale-up of your pharmaceutical projects and transfer to your production. For the development of a tablet from dry granulates, it might look like this:
Development on the Styl'One Evo:
We start the development of the dry granulate with minimal material use on the Styl'One Evo. We produce "granulate tablets" and grind them with a hand mill. The resulting granulate has comparable properties to that of a roller compactor. We then simulate the desired target press for your tablet production in some meaningful tableting trials. You can also find more information in formulation development and on our blog. Advisor #DrRob.
Transfer to the roller compactor:
For the scale-up, we transfer the granulate tablets to the roller compactor. On our Gerteis MINI-PACTOR®, we produce granulates with different settings in small quantities. Usually, we need about 500 g – 1 kg of product for this step.
Visual and haptic comparison:
We compare the various granulates visually and haptically by piling small sample amounts on a work surface. This gives us an impression of the flow behavior and granulate strength. Based on these findings, we ultimately select the best candidates for tableting trials.
Verification on the rotary press:
For the selected candidates, we then produce approx. 2-5 kg of granulate, depending on the rotary press, to verify the tabletability of the granulates and test their flowability under production-like conditions.
Transfer to the final roller compactor:
The final step is the transfer to the roller compactor for production. Scaling up the roller compactor (e.g., from the MINI-PACTOR® to a MACRO-PACTOR®) can be calculated and then fine-tuned, e.g., as part of validation batches. Scale-up of roller compactors with different roll diameters is also possible and can mostly be calculated.
Contact us for more information and successfully implement the scale-up of your pharmaceutical projects. We also conduct the scale-up of wet granulates, of course!
Transition to production: We pave the way for tablet production.
Once the scale-up parameters are set, we define the entire tablet production process in close coordination with your production site, including all necessary quality parameters. During the formulation development, we already have a smooth transition to a scalable production process in mind. Our goal is to develop formulations that are ideally suited for production. We preferably conduct the final trials for scale-up and the transition to tablet production on-site. However, preliminary trials can also be conducted in our premises if desired.
Our on-site support: Product transfers and consultancy
Whether it's about transferring to a new machine or another production facility, we support you on-site. Our experienced team assists in seamless product transfers and offers comprehensive advice.
Preliminary tests for safety: Minimizing production downtimes
In each case, we carefully examine whether it is advisable to perform some preliminary tests in our technical center to save production capacities. This is especially beneficial when it is not certain in advance whether the transfer to another machine will fundamentally work.
Free initial consultation: Tailored solutions for your needs
We offer a free initial consultation to discuss your specific requirements. Together, we'll find the best solutions for your transition to production. Contact us and benefit from our expertise.
Effective transition, successful production: Our commitment to you
The transition from development to tablet production is crucial. Our experts ensure this step runs smoothly and your production without issues. Contact us today for the optimal scale-up of your tablet production. Your success is our priority.
With Expertise in Pharmaceutical Technology: Our Support in Production and Production Issues
Individual Solutions for Your Challenges: Quick Assistance with Production Issues
As experts in pharmaceutical technology, we combine substance/formulation-specific knowledge with process and technology understanding. We recognize that challenges in pharmaceutical production often represent a complex mix of various factors. Whether it's during a change, the introduction of new manufacturing processes, or unexpected short-term difficulties – we are here for you.
Contact us to benefit from our fast and straightforward support!
Discreet and Prompt – Our Assistance in Your Tablet and Granulation Production
Of course, we treat all discussed content with utmost discretion and maintain confidentiality. In most cases, during the initial consultation, we can avoid specific names of active ingredients, products, or employed technology. We can discuss the active ingredient, the product, etc., anonymously. To determine the cause of the problem, we may need some product properties, but at this point, we see no need for a confidentiality agreement (CDA). This allows us to get started quickly and without red tape. Of course, we are also prepared to sign a CDA if necessary. Depending on the urgency and nature of the problem, we are also happy to visit your production site at short notice. Many production issues are best resolved on-site. Often, it's the small nuances in machine or product handling that can make a significant difference.
Tailored Solutions for Your Production: Quick Assistance with Production Issues of Tablets and Granules
After the initial discussion, if necessary, we develop an approach to solve your problem. We might ask some follow-up questions to better understand the issue. The particular challenge with production problems is that the solution approach is very constrained because regulatory authorities must be involved if changes are too significant. We naturally aim to avoid the effort and associated high costs. Moreover, it's often not just the manufacturing step where the problem occurs that's responsible, but preceding manufacturing steps might also be involved. Therefore, we usually look at the entire manufacturing process, allowing us to identify causes and suggest measures more precisely. We discuss the solution approach and the follow-up questions together with you to find a tailored solution that quickly assists you.
Preliminary Tests in the Technical Center: A Precise Analysis for Individual Solutions
In some cases, it's advisable to conduct preliminary tests in our technical center. Through such tests, we can analyze the cause more precisely. This offers you significant advantages, such as:
Preliminary Tests in the Technical Center: A Precise Analysis for Individual Solutions
In some cases, it's advisable to conduct preliminary tests in our technical center. Through such tests, we can analyze the cause more precisely. This offers you significant advantages, such as:
Less material is needed for the preliminary tests.
No production capacities are blocked
No "out of spec" batches are produced
The insights gained from the preliminary tests can then be transferred to production. We are happy to come to your production site and accompany this step. In other cases, where preliminary tests are not effective, we solve the problem directly in the production environment together with you. Our goal is to ultimately develop a long-term and stable solution, despite the typically high time pressure in the pharmaceutical, chemical, or food production.
Documentation and Reporting: Transparency and Traceability for You
Of course, we document all experiments and steps for you. If desired, we provide a complete report. This ensures transparency and traceability in our approach. You can rely on us to carefully record the obtained data and make it available for your further planning and decision-making.
Finding Solutions Together: Your Partners in Production Issues
If you need our assistance with production issues like production stoppages, blocked batches, or warning letters, we are always available. Together, we find solutions – even for seemingly insurmountable problems. Our team of experts supports you in overcoming your challenges and enhancing the efficiency of your production.
Simply contact us, and let's work on a solution together.
Advanced Measurement and Tableting Technology: Research for Smooth Manufacturing Processes of Solid Dosage Forms
Comprehensive Collaboration for Technological Progress
Our goal is to comprehensively understand and research the relationships between active ingredient and excipient properties, as well as technology. To this end, we collaborate with renowned universities, conduct our own research, and undertake contract research. Additionally, we supervise bachelor's and master's theses, as well as doctoral dissertations.
Our primary focus is on the field of measurement technology and instrumentation, including the instrumentation of production machines. Our foremost objective is to continuously drive progress forward.
Enhancing Product Quality through Improved Process Technology 
By using instrumentation and measurement technology, we examine specific aspects of the manufacturing process of solid dosage forms, depending on the issue at hand. We focus on granulation methods, tableting, and tablet tooling.
The insights gained typically allow for improved control and monitoring of the process, ultimately leading to enhanced quality of tablets.
In close collaboration with machine manufacturers, our focus includes optimizing individual machines, continuous production plants, and researching new measurement methods.
Efficient Use of Machines and Process Techniques through Measurement Data
Depending on the issue, machines are equipped with additional force transducers or displacement measurement systems. The collection and evaluation of measurement data, as well as their implementation into machine control, also play a crucial role. Moreover, we have machine-brand independent, external data acquisition software for tablet presses.
With it, we can verify measurement methods and values of the internal machine software and develop improvements in tableting. This ensures the highest measurement accuracy and precise results.
As many of our collaborations are characterized by high innovative strength, we take confidentiality very seriously and only report on our successful cooperation with the explicit consent of our customers. Regular news and current information can be found on our blog, which provides insights into our projects and developments.
You can find regular updates and current information in our Advisor "DrRob", Advisor #DrRobwhich provides you with insights into our projects and developments.
Do You Have an Idea or Need Support?
Do you need assistance in implementing your ideas in the field of tableting and granulation, the applicability of your measurement method as PAT, or are you simply looking for a partner to discuss your project and find the right process technology? Please contact us. Our experienced team is at your disposal and looks forward to supporting you.
Project Example KIM – Ultrasound Measurement for Tablet-Relevant Parameters
Project Example KIM – Ultrasound Measurement for Tablet-Relevant Parameters
On behalf of Romaco-Kilian, we developed an innovative measurement method. It examines powder during tablet compression using ultrasound. Parameters relevant to the compression process were recorded and additional physical properties such as the modulus of elasticity (E-Modulus) and the Poisson's ratio of the tablet were determined. In close cooperation with Romaco-Kilian, we developed the "Kilian Inline Measurement System" (KIM) and investigated into various applications with respect to formulation development and the technical characterization of powders.
Initially, a Styl'One Evo was instrumented, overcoming several measurement-related challenges.
The ultrasound sensor is built directly into the tablet tooling.
The speed of longitudinal and transverse waves in the powder bed is measured during compression.
Together with the exact height of the powder bed, this allows for the calculation of the modulus of elasticity and the Poisson's ratio.
Extensive tests and evaluations have shown that this can derive pharmaceutically relevant key figures, such as the powder compatibility for tableting.
More details can also be found on our Advisor #DrRob.
The measurement setup is available in our technical center, and we are happy to conduct initial tests or demos for you.
Project Example RollerPat (ZIM Funding) – Development of Our Own Measurement Methods
Project Example RollerPat (ZIM Funding) – Development of Our Own Measurement Methods
In collaboration with the University of Bonn and ColVisTec, an in-line measurement method for determining the density of ribbons on the roller compactor was developed.
Using optical fibers from ColVisTec, ribbons are scanned and the density is derived from the captured color spectrum.
The first tests to verify the measurement method were conducted offline on tablets and ribbons. Due to promising results, a bracket for mounting the measuring device on the roller compactor was designed and an extensive test program planned. The project was funded by the Central Innovation Program for Small and Medium-sized Enterprises (ZIM).